A new month means new
Simple Scrapper
projects to share! I was really excited about the pages I made using August's premium content. This page was made with a Story Starter and an older sketch and is included in the August edition of Spark Magazine.
One of my cousins posted this photo on Facebook last month. This is my grandma when she was young. I don't know how old she is here. I'm going to guess early 20's? By that time she was married and had a gaggle of kids. She did everything young.
I thought it would be awesome to contrast our lives at 30. This is something I periodically do in my brain with both my mom and my grandmas, think about their life at my same age. They're all very different pictures.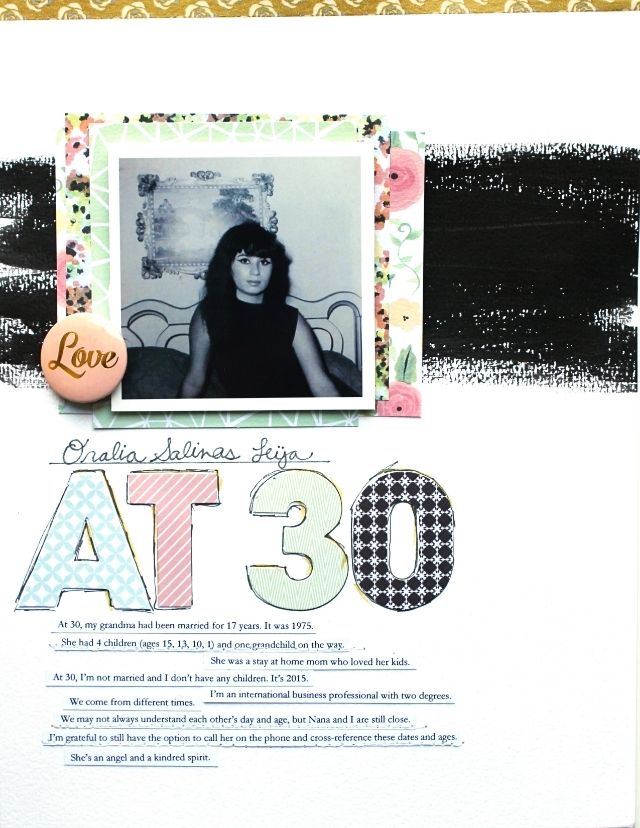 For the layout, I used the
Fancy Pant's Office Suite
line. I love love LOVE this collection! The colors are fantastic and the patterns are fresh. Plus, the texture of the patterned paper is so tactile and fun. I think it's orange peel. Even the 6x6 paper pads have texture!
It was a really quick and simple page to put together, thanks to the
Simple Scrapper
sketch. I think the journaling is my favorite part. And not because it's well written. But mainly because I needed to call my grandma to verify the dates.
I'm lucky to be able to call her up and ask for this kind of info. I took notes on a post-it and ended up taping it to the back of this finished page. I'll definitely do that again!
cheers & besos,